Postet av Ultimate Frisbee den 12. Des 2017
The first weekend of December is, traditionally, filled with Ultimate in Fjellhammerhallen just outside of Oslo, and this year was no exception. OSI sent two balanced teams to the one-day tournament, and both teams had a lot of good games! Here follows a quick recap of the day, from the perspective of Jonathan from OSI 1 and Henrik from OSI 2:
OSI 1 played 6 matches on Saturday, finishing with 3 wins and 3 losses in 7th place, only one place behind our good pals on OSI 2. Our team grew together as we played alongside each other. Everyone on our team made plenty of throws, catches, and scores, and we also all made mistakes that we learned from. Our best game had to be the first of two games against La Bamba. We went out with intensity and fire and showed how we could play Ultimate. Especially after our rough defeat to Pancake, we still kept our heads up and came back out to play.

The team: Eirik Isene (the captain), Ole Rabbel (the other captain), Jonathan Gerth (the shadow captain), Harry Fronk, Lin GuoShiuan, Matthias Himmelmann, Sitara Hajizada, and Rianna Ledwos.
Everybody got to do everything and helped contribute to the team's victories through great throws, consistent catches, and positive spirit!
OSI 2 started great with victories in their two first games versus the PickUp team and Ekeberg. With spirits and confidence high, TFK were on the opposing side in game three. They were ready for their revenge after OSI's victory against them in their home city of Trondheim in November, and proved to be too strong this time. In the last game in the group stage we faced Pancake & Waffles (Pancake 2) who also had revenge on their minds after TrønDisk. After a great, well-spirited game with impressive plays and impressive mistakes from both teams, the baked goods ended up on top. This put us on 3rd in our group, and La Bamba from Gothenburg were up next in the first finals game. After an intense game where the teams followed each other closely for the first 15 minutes we managed to get a grip on our play and took the win. The last game was then again against Ekeberg, for 5th place. ESK, having learnt from their first game against us, were fighting harder this time and none of the teams managed to get a good lead. It came down to universe point... which Ekeberg snatched from us. Thus we finished 6th in this edition of DecemberCup!

Thank you to everyone on the team for making the tournament another great one: Erik Levén, Lisa Ritter, Vilde Marita Borgerud Elvestrøm (captain), Daniel Herman, Sverre Løyland, Jonas Kolding, Henrik Bjoner Lie (the eternal leader).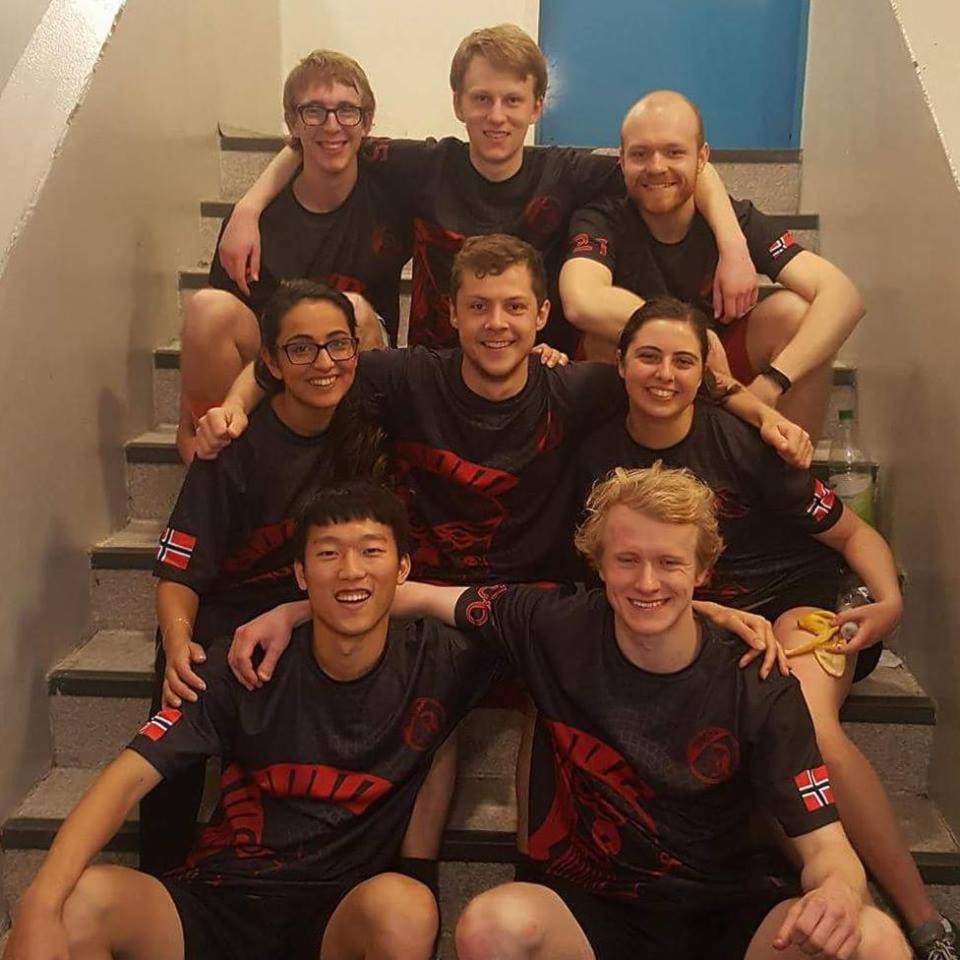 ---
Kommentarer
Logg inn for å skrive en kommentar.
Siste fra Ultimate Frisbee